Overview
Get Ready!!
This year, the annual FEHB Open Season will run from November 13 - December 11, 2023. Now is a great time to learn more about TakeCare's 2024 FEHB offering.
You've got choices with TakeCare
Thank you for considering TakeCare for your health care needs. At TakeCare, we are committed to giving you choices while delivering quality and affordable health care benefits and services that's focused on you and your family needs.
If you have questions about which TakeCare medical plan might be right for you, answering the following can help you choose a plan that might be the best fit.
What type of coverage will you need? See the benefit summaries below.
Is cost an important consideration? We have a plan that's only $17.90/paycheck for Self Only coverage. See our HDHP Option info below.
Will you need in-network or out-of-network coverage? Check our Provider Search Tool to see if your doctor, dentist, or preferred facility is included in our extensive network, on or off island.
Are you taking any prescription drugs? Use our Rx Search Tool to see what you'll pay based on your TakeCare medical plan choice, benefit tier, and prescription dosage.
Looking to better manage your health? Click here to learn more about our extensive list of free wellness and health education classes
Interested in earning money by completing recommended health screenings, making health improvements, exercising regularly? Click here for details. Or, a free membership to a choice of 21 different gyms? Click here
If you need help enrollment help, please refer to OPM's FEHB Guidance links in the box to the right or contact us at (671) 647-3526, customerservice@takecareasia.com
Refer to the information below to review TakeCare's 2024 plan options, enrollment codes, premiums and costs, and to access other important information
HDHP Option
Here's some great reasons to choose TakeCare's HDHP Option for 2024:
Very affordable bi-weekly payroll deduction

Self Only (KX1) -$17.90
Self Plus One (KX3) - $43.21
Self and Family (KX2) - $47.99
A Self Only payroll-deduction annual savings of $1,365.52 over TakeCare's High Option; even more if you're covering dependents

100% coverage for in-network preventive services (deductible waived)

preventive annual physical exams, immunizations, age/gender related screenings, well-child visits
most preventive care medications, supplements and devices, including insulin and other glucose lowering agents, if prescribed by a healthcare professional and filled at a network pharmacy

Health Savings Account (HSA) qualified plan

In 2024, TakeCare deposits into your HSA each month $37.29 if you have Self Only coverage, $90.03 for Self Plus One, and $99.99 for Self and Family
The money in the HSA is yours to keep, even if you later enroll in another plan option or leave federal employment
Sound good? Learn more in the 2024 benefit brochure, pages 85-87, and go to FY2024 Feds HSA FAQ.
Request for a 2024 FEHB Benefit Packet
Click here to request a TakeCare information packet including the 2024 brochure.
Need a new or replacement TakeCare ID Card?
Request for a new or replacement TakeCare Member ID card(s) at https://bit.ly/3ZG7CcI
Or, consider displaying your ID card on your mobile device using TakeCare's mobile app. Learn more at https://bit.ly/3AdZmXm
In-Person Briefings/ Activities
Guam - Healthcare/Benefit Info Fairs- November 11 and December 2, 10am-5pm. Micronesia Mall, Macy's Men's side, across from Jeans Warehouse
Saipan - Briefing Luncheon, November 14, 11:30am-1:30pm. Crowne Plaza Resort Saipan, Hibiscus Hall. RSVP (670) 235-0996 ext. 5802 or leilani.pangelinan@takecareasia.com by November 3.
Agency Briefings - check with your Agency HRO for the date(s) scheduled for your onsite agency briefing.
Virtual Live Briefings
Get your TakeCare-specific questions answered through conveniently scheduled virtual presentation sessions throughout the open enrollment period.
Attend any of the sessions to be conducted via Microsoft Teams every Tuesday at 7:30am-8:30amChST, or every Thursday at 6:30pm-7:30pmChST, beginning Nov 16 through Dec 7 (except for Thanksgiving, Nov 24).
Other Information Opportunities
Prefer to get your questions answered in person or want to pick up an information packet
Our customer service offices are open in Tamuning and Garapan. For your safety and convenience, in-person visits by appointment is the preference but walk-ins are welcome.
During open season, hours of operation are 8am to 5pm, Mondays – Fridays. The first hour (8am-9am) being reserved for manamko' and those persons with disabilities.
To make an appointment in Tamuning, call us at (671) 647-3526 or via email at customerservice@takecareasia.com. For Garapan, call us at (670) 235-0994.
Or click here to ask us a question or request for more information
Your 2024 Premium Rate Share*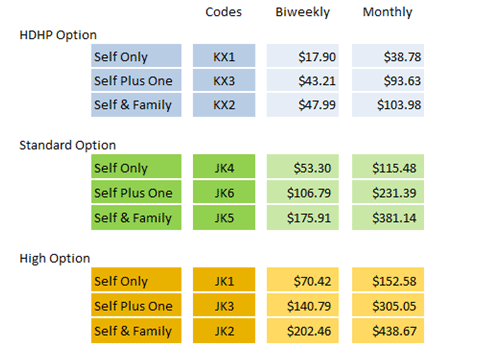 * Effective January 1 2022, premium rate shares are the same for Non-Postal and Postal employees.
2024 Benefit Plans
The TakeCare Summary of Benefits and Coverage (SBC) for each of its 2024 Options and Uniform Glossary are available through the following links:
Other Important Links
2024 Non-FEHB Wellness Incentive Package
2024 Non-FEHB Fitness Partner Membership
2024 Non-FEHB Supplemental Dental Coverage